TikTok Inspired
I recently stumbled upon a TikTok post featuring a table-read for the sketch comedy show, The Muppet Show (1976 – 1981). The clip, posted by TikTok user, @muppetmarissa, includes the voice-overlay of creative mind and Muppet creator, Jim Henson, along with his perspective on the collaborative creative process. The clip progresses, there are many other voices of Muppet Legendary, and then comes the wave of nostalgia.
The Fabric
Now, if you made it this far, it should come as no surprise to learn the obvious. I am a huge Jim Henson fan. I mean, I am writing a reflection on educational leadership with an ode to The Muppets. Don't worry, it has a purpose, I promise.
You see, I consider myself a creative. I allow myself the time, space, and flexibility to be creative in all aspects of my personal and professional interests. I credit my creative identity and all my ventures, from childhood to this very moment, to Jim Henson, his circle of like-minded creatives, the imaginary world they conjured for us kids in the 80s, and how that imaginary world has now transcended space and time.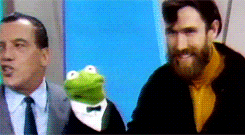 Shared Experience
I also know, I am not the only one who feels this way. Take actor Jason Segel, for example. Segal is best known for his role in the sitcom How I Met Your Mother (2005 – 2014), writing and starring in the iconic film, Forgetting Sarah Marshall (2008), writing and staring in the recent the AppleTV series, Shrinking (2023), and [drumroll please], his love of The Muppets.
Segel does not shy away from his love and appreciation for The Muppets, and even refers to them as his "childhood idols." An additional interest worth noting is Segel's idolization of Kermit the Frog, the amphibian embodiment of Henson's legacy. Segel reveres Kermit almost as much as I revere the little green frog. During an interview to promote his mid-2000s film, The Muppets (2011), Segel was asked to divulge his favorite Muppet, to which he replied "… it's Kermit. It's always been Kermit." I get it.
I get Segel's #ItsAlwaysBeenKermit belief statement because quite frankly, I have an #ItsAlwaysBeenKermit belief statement, too. So here it goes, my Kermit belief statement:
Everything I learned in life, I learned from a little green frog.
I really get it.
In 2011, Segal took it upon himself to dust off the Muppet memories for us "80s kids," thanks to writing and staring alongside them for their return to the big screen. That summer, I took my son, who was then 4 years old, along with his cousins, to see Segal's major motion picture production. We sat in a quaint, Berkshire, Massachusetts movie theater. What could be better than a summertime movie, in the Berkshires, and watching The Muppets? Nothing. There is nothing better. Trust me.
The lights dimmed. The credits rolled, and so did the tears. Let me be more specific. The credits rolled, and so did my tears.
I wish I could say I was overcome with emotion because it was my son's first time in a movie theater– it wasn't that. No, it wasn't tears of joy. Tears of sadness? Nah. Nope, not tears longing for the days of yesterday. I pretty much cried throughout the entire movie.
The Act of Being
For the duration of the film, the adult me was very cognizant of the fact that I was in a theater, surrounded by children, one of them being my own, to watch a film in which my own childhood icons paraded on screen. The film, for all intents and purposes, was presented under the auspices of a children's movie. But to me, I knew this film was not exclusively targeted to the 4-12 year old demographic, but to their parents, guardians, aunts, uncles, neighbors– to those "80s kids."
The Muppets (2011) was a film targeted to me, and my tears were tears of being; being seen, heard and valued. 
It was so very apparent, how by watching this film, my personal roadmap, goals, dreams, and aspirations were emphatically validated, and not just by any other person, by another like-minded creative, personally and professionally influenced by Henson and his Muppets.
Jason Segel got it– he got me.
I was being seen, valued, and heard as a person in need of a reminder, a reminder to remember….and I wasn't the only one. I wasn't the only one positively influenced by the creative masterminds behind The Muppets. I wasn't the only one still using the efforts of ingenious creatives, like Henson, to fuel my purpose. I wasn't the only one who wanted to genuinely find opportunities to advocate for empathy and understanding, to leave my mark on this world, and make it just a little brighter than it was the day before.
There are people, like Segel, who are like me. There are people, like Segel, who, like me, want others to know that even during some of life's most [fill in the blank] moments, they are seen, heard and valued.
Educational Leadership
As I reflect on my own educational leadership journey, there is the running motif and thematic concept within my writing and it is centered around those three words: seen, valued, and heard (I've coined it "the trifecta"). All individuals in an organization need to feel truly seen, valued, and heard for a plethora of reasons; the multitude of stakeholders: who is the cultivator of "the trifecta" one day and who is the receiver the next; interwoven relationships between district, school building leadership and the trickle down effect; leadership philosophy and philosophical approaches to management, transactional vs. transformational…
Now, enter students into the equation. Students must feel seen, heard and valued, and if teachers are the ones to help cultivate and nurture "the trifecta," then teachers must also be a receiver of those feelings, which then means district and school building leadership must …. round and round we go.
All stakeholders must have equitable access to "the trifecta." Easier said than done? Meh.
Everything I learned in life, I learned from a little green frog.
I get it, because I believe it. And I also believe in order to cultivate authentic opportunities for others to feel all those things, and more, it takes creative ingenuity, it requires safety and security, transparency, honesty, love, kindness, trust, empathy …. it requires a Kermit-like mindset.
A Kermit-Like Mindset to Leadership and Beyond! That reads as if it's got some potential, and that is where the next chapter of my leadership journey will start.